Royston (Iceni) Weather Station
About...... Photographs on this site
The photographs displayed on this site are a mixture of images taken with a digital camera, and scanned photographic prints. The former are mostly 1280 X 960 pixel resolution (24 bits per pixel) and are stored in JPEG File Interchange Format (about 200k per image). A direct print would be about A4 size. For web publishing these images necessarily have to be reduced in size and often the JPEG compression increased to bring the file size down to a level more manageable for web download times.
For instance, the image below started life as a 186k JPEG and has been slightly cropped (for an uninteresting sky) and then reduced in size to about 40% of the original, and the JPEG compression increased by 50%. This has reduced the file size to 29k and should therefore should not take too long to download.
Similar principles apply to scanned photographs but with these cropping, resolution and JPEG compression can all be varied during the scanning process to produce an image which will look reasonable on screen but will not have too large a file size.
For these reasons screen images may not print as well as the originals. If you would like high resolution versions of any of the photographs on this site for printing purposes please e-mail your request to the Met. Observer, Richard Barker at rbarker@iceni.org.uk who will be pleased to forward the images as e-mail file attachments.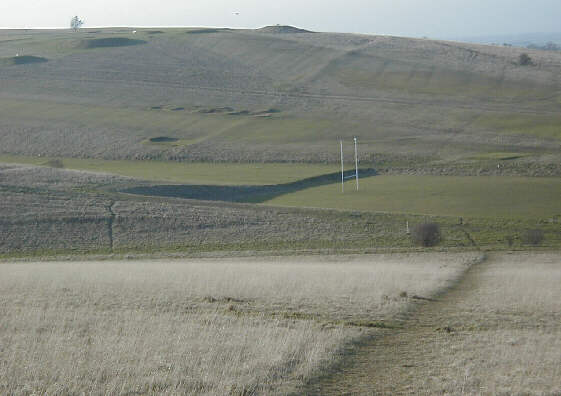 Looking westwards across Therfield Heath, Royston from its eastern perimeter at 1456 GMT on 26th January 2000. Bright sunshine from a cloudless sky illuminates the scene, the temperature is 4.2°C, the relative humidity 67% (the lowest value in the month so far), and a light west south-westerly breeze (mean speed 4 knots, gusting to 10 knots) is drifting across the heath. In fact, an almost perfect midwinter's afternoon! Total sunshine for the day was 4.8 hours and the maximum temperature was 5.9°C. A night minimum temperature of 0.1°C followed accompanied by a ground frost (grass minimum temperature -1.7°C).
Return to Welcome to Royston (Iceni) Weather Station header page
(This page last updated 28th January 2000)